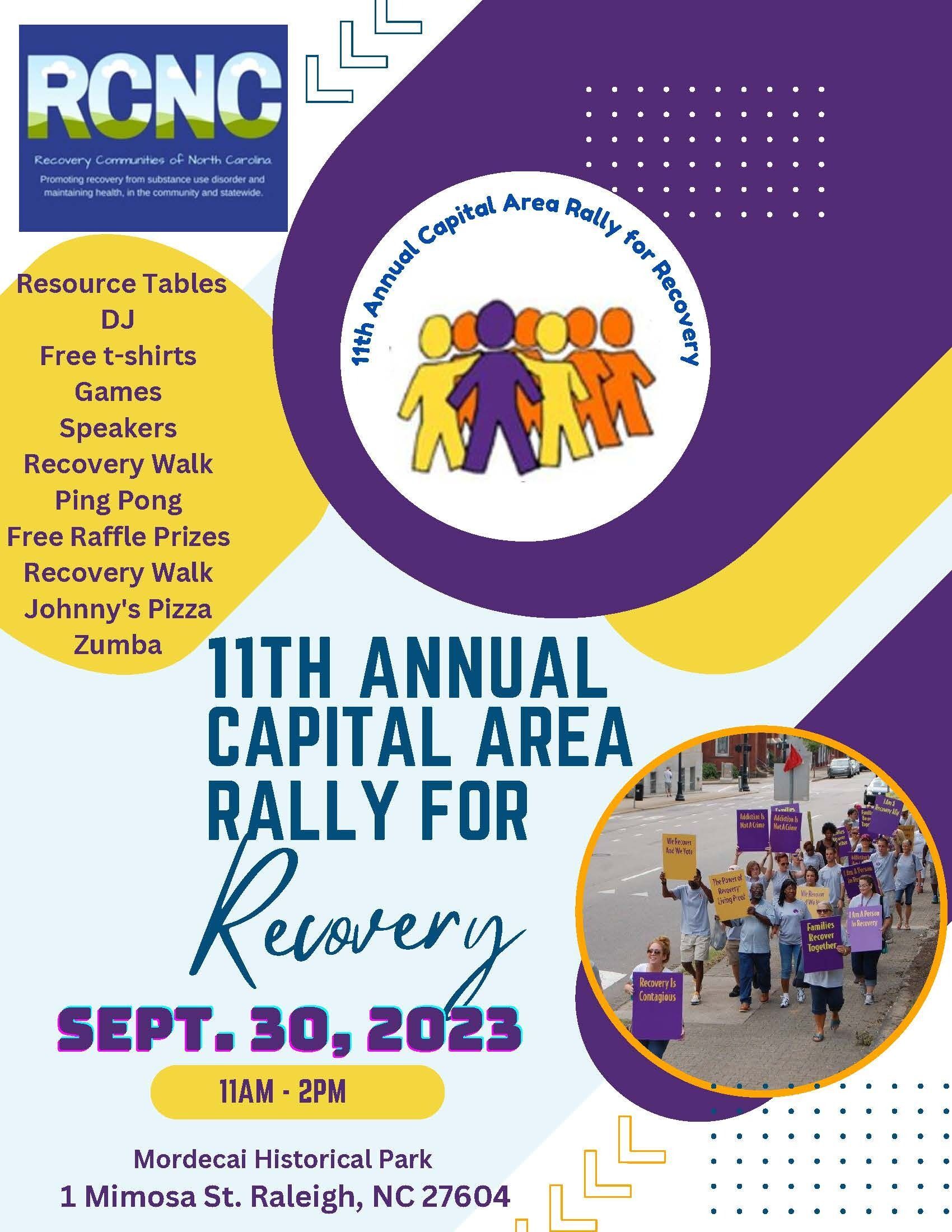 Recovery is a journey of resilience, courage, and transformation. It's a path that deserves celebration and recognition, which is why the Recovery Communities of North Carolina (RCNC) is thrilled to announce the eagerly anticipated 2023 Capital Area Rally for Recovery event! As we gear up to honor Recovery Month, mark your calendars for an unforgettable day of empowerment, connection, and fun. This year's rally promises to be bigger and better than ever, featuring various activities to inspire, entertain, and uplift attendees.
So, let's dive into the details and get ready to come together on September 30, 2023, from 11:00 AM to 2:00 PM at the historic Mordecai Historical Park in North Carolina.
What to Expect:
The 2023 Capital Area Rally for Recovery is set to be a dynamic and engaging event, designed to celebrate the incredible journeys of individuals who have embraced the path of recovery. Whether you're personally in recovery, supporting a loved one, or simply want to be part of a community that values healing and growth, this rally is for you.
Resource Tables: Discover a wealth of information, support, and resources at various interactive resource tables. Experts and organizations will be on hand to offer guidance on various aspects of recovery, ensuring you have access to the tools you need for a successful journey.
DJ and Music: Get ready to dance and groove to the beats of a talented DJ who will set the perfect tone for the day. Music can uplift spirits and create a sense of unity, making it an essential element of the rally.
Free T-Shirts and Prizes: Who doesn't love freebies? The first attendees can snag stylish rally t-shirts to commemorate the event. Plus, look for opportunities to win exciting prizes throughout the day.
Games and Activities: From classic games to engaging activities, there will be something for everyone to enjoy. Connect with others through friendly competition, laughter, and shared experiences.
Inspirational Speakers: Gain insights and inspiration from individuals who have overcome challenges on their recovery journey. Speakers will share personal stories of triumph, resilience, and transformation, reminding us of hope's power.
Recovery Walk: Lace up your sneakers and join fellow attendees for a symbolic recovery walk. This walk is a powerful reminder of the steps taken toward a healthier, happier life and serves as a testament to the strength of the recovery community.
Ping Pong Tournament: Test your ping pong skills in a lively tournament that fosters friendly competition and camaraderie. Whether you're a seasoned player or a ping pong newbie, this tournament is a chance to have some fun and connect with others.
Johnny's Pizza: Delight your taste buds with a delicious spread from Johnny's Pizza. Enjoy mouthwatering slices while socializing and making new friends.
Conclusion:
The 2023 Capital Area Rally for Recovery is not just an event; it's a celebration of courage, resilience, and community. From resource tables to a recovery walk, from inspirational speakers to a ping pong tournament, there's something for everyone to enjoy. It's a day of connection, support, and joy, where attendees can embrace the spirit of Recovery Month and recognize the incredible strength within each individual's journey.
Mark your calendar for September 30, 2023, from 10:00 AM to 2:00 PM, and go to the historic Mordecai Historical Park in North Carolina. Let's unite to honor recovery, share stories, and uplift one another. Whether you're seeking support, celebrating personal milestones, or simply wanting to participate in a transformative event, the 2023 Capital Area Rally for Recovery promises an unforgettable experience. Join us as we stand united in strength, hope, and healing. See you there!