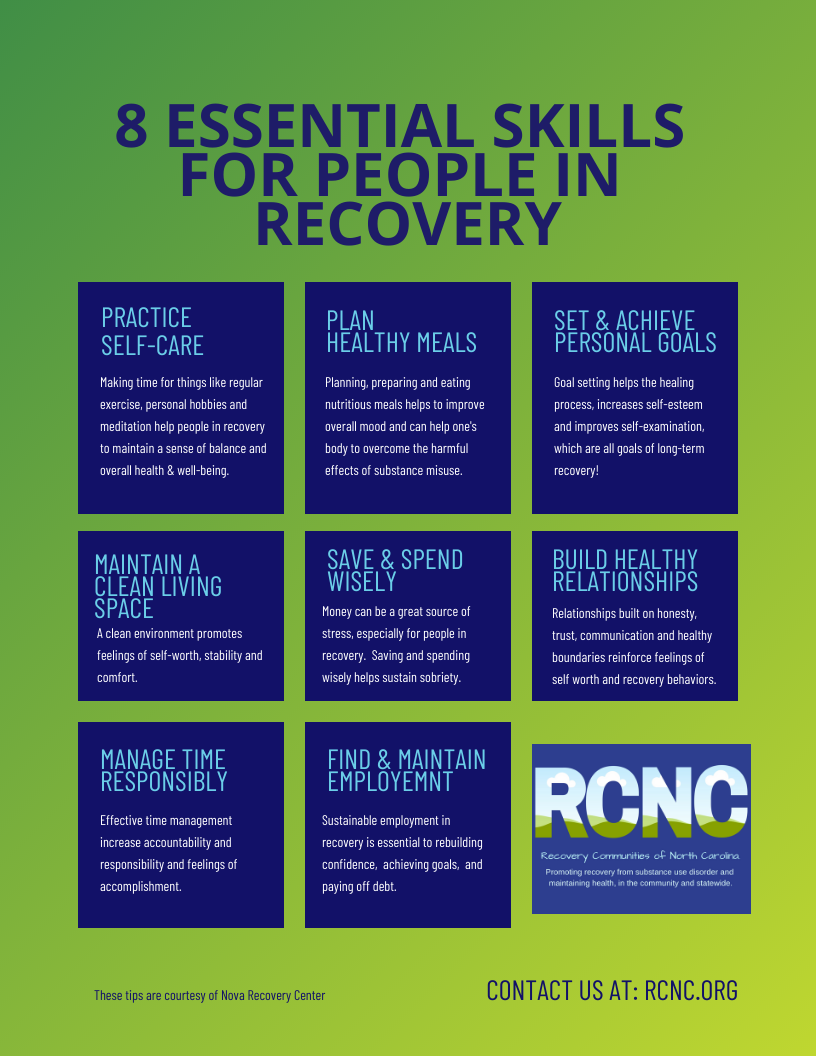 Here are eight of the main life skills people in recovery will benefit from practicing in their daily lives. These skills are proven to support individuals during their recovery journey:
Practicing Self-Care: A common denominator of emotional relapse is poor self-care. Self-care can reduce stress levels and combat anxiety and depression. This includes getting adequate sleep, eating nutritious foods, meditation and journaling to develop positive coping strategies to combat depression, anxiety, and other negative emotions and thoughts.
Preparing Healthy Meals: Just as making healthy food choices is important, individuals in recovery also need to learn how to create a meal plan, shop for groceries, and prepare their own meals. The chemicals in junk food 
Setting and achieving personal goals:  One of the top life skills in recovery should also include making goals. Years of continued substance abuse may have left some people feeling hopeless, without any life goals or aspirations. Goals keep life moving forward and prevent old habits from seeping back in. Others may have never had goals in the first place. Fortunately, recovery is the perfect time to start defining and pursuing personal goals.
Maintaining a clean living space: Learning how to maintain a clean living space is not just good practice in discipline, but it will also make returning home a whole lot easier, especially for those who have family members. Having a clean home environment can increase one's feelings of self-worth and help to reduce stress.
Managing finances - Another primary recovery life skill is managing finances. Financial planning and management may be difficult for a person in recovery, as they may be used to allocating all their money to acquiring drugs and/or alcohol. There are many free resources online to help individuals learn how to  practice budgeting, saving, and planning for these expenses.
Building healthy relationships -Building healthy relationships is one of the most important and challenging new life skills for addicts in recovery. While the person in recovery is adjusting to their new life of sobriety, their family and friends will also be adjusting to the change. Regardless of how family and friends respond to an individual's newfound sobriety, it is vital that people in recovery focus on find ways to build and enhance relationships with others by communicating clearly, expressing emotions in a healthy way, listening, and identifying and coping with triggers in social situations/ These skills can be gained by interacting peers at our Recovery Community Center. 
Managing time - In the past, people who were addicted most likely spent the majority of their time and energy using or obtaining drugs and/or alcohol. In recovery, these individuals must learn to fill their time with goals, activities, and recovery-oriented work. One of the best ways to practice time management is to invest in a daily planner or online calendar. Using a planner or calendar to schedule out free time is a great way to avoid boredom and wasted time, which put a person at higher risk for relapse.
Finding and maintaining employment - Maintaining a good job is one of the many things that makes life more meaningful, especially for those in recovery. There are many organizations like RCNC in North Carolina that help people in recovery find and obtain employment through community connections. Our community partners help individuals learn how to search for employment using various methods, fill out applications, create or update a resume, and how to properly present themselves in a job interview.