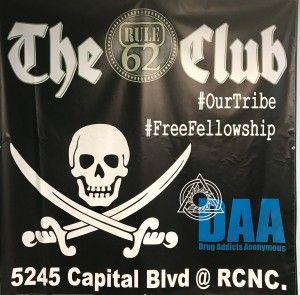 At one of their usual Saturday cookouts, a close-knit group of friends in recovery started an innovative conversation. Each of them were attending mutual aid meetings regularly and were benefiting from the process, but wanted to enhance their fellowship experience. In their conversations they found that most of them were in recovery from alcohol and drugs. Their usual meetings didn't allow them to discuss this, so they felt hindered in their recovery. The typical meetings that they attended also had a firm structure, which was constructive, but also limited their ability to share some of the issues they were facing day-to-day such as mental health and trauma. More critically, it seemed as though young people were feeling pushed away. This is particularly perilous in light of the opioid epidemic. Everyone in this group of friends has lost someone dear them to overdose.
They were sure that they weren't the only people in recovery feeling this way. One of the friends discovered Drug Addicts Anonymous (DAA), a different approach for a mutual aid meeting. After research and discussion they unanimously agreed that DAA suited their mutual aid needs. Because there were no DAA groups in the area they had the opportunity to start their own. The close-knit group of friends, which were more like a family, became the founders of The Rule 62 Club.
DAA utilizes the 12 steps of The Big Book of Alcoholics Anonymous, but uses its own meeting format. DAA emphasizes unity amongst all people who are experiencing, or are in recovery from, the use of any substance. It also recognizes that some people struggle with multiple substances, and gives them the ability to find their own identity in that. Multiple pathways of recovery are celebrated. And, most importantly, the meetings allow the freedom for members to share how they want. The Rule 62 Club name derives from rule 62 of Alcoholics Anonymous, "Don't take yourself too seriously!" The founders of The Rule 62 Club embraced these values and created an environment for like-minded folks to thrive. It was very evident that others were longing for this type of environment when the first meeting had a turnout of well over 100 people. We used every single office chair, folding chair, couch, and flat surface to accommodate this movement!
The Rule 62 Club meetings are now an extension of the founders' usual Saturday cookouts and 'family' gatherings. One of the founders shared, "If you have a desire to stop doing what you are doing, you are welcome." All pathways of recovery are welcome with open arms, including harm reduction. The Rule 62 Club meets everyone where they are, knowing that no one's journey of recovery is the same. Each member of The Rule 62 Club is like a family member, with no one being viewed as better than or less than. The founders have a heart to help everybody and their only approach is love, knowing that a firm relationship is essential to being a beacon of light in someone's life. You can find your tribe at their weekly meetings, Saturdays at 8 pm. RCNC's Recovery Community Center is located at 5245 Capital Blvd (across the street from Michael's in the Majestic Nail business complex).
"Come get you some."