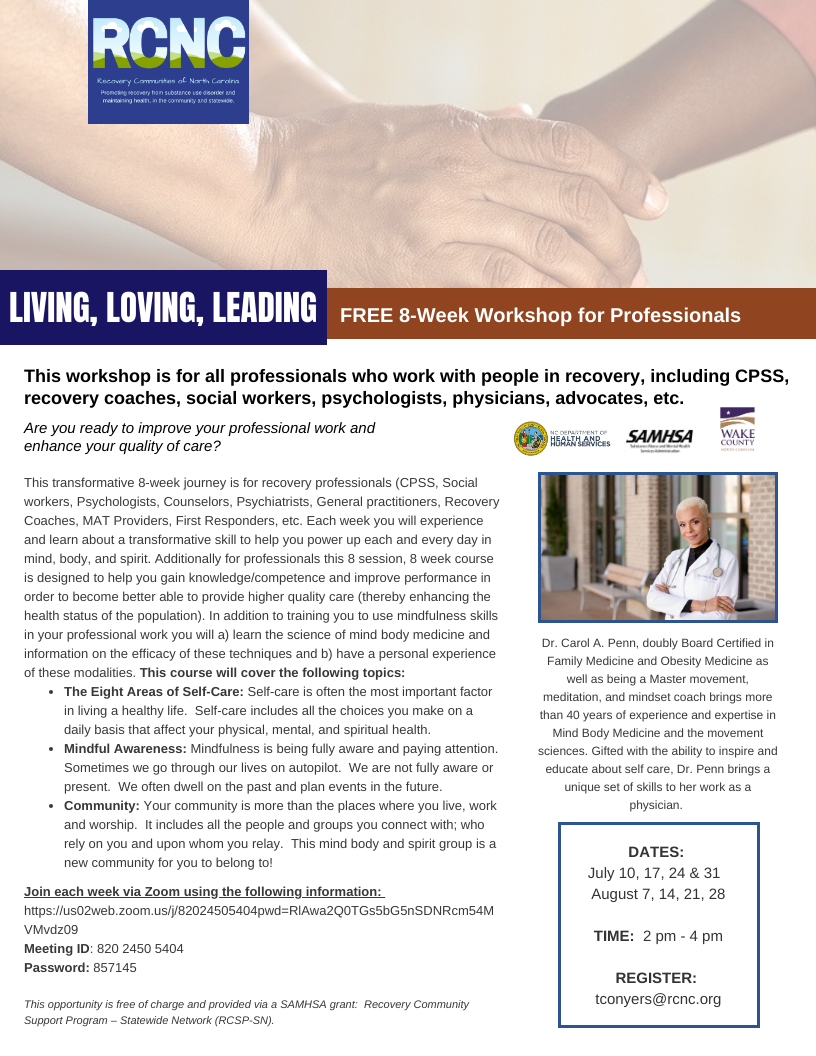 This transformative 8-week journey is for recovery professionals (CPSS, Social workers, Psychologists, Counselors, Psychiatrists, General practitioners, Recovery Coaches, MAT Providers, First Responders, etc. and will cover three major areas:
The Eight Areas of Self-Care: Self-care is often the most important factor in living a healthy life which in turn allows you to live your life fully, in the ways that matter to you. Self-care includes all the choices you make on a daily basis that affect your physical, mental, and spiritual health. Evidence shows that that each of these eight areas of self-care contributes a great deal to your overall health and well-being. These areas can also affect your chances of developing disease as well as the seriousness of that disease.
Mindful Awareness: Mindfulness is being fully aware and paying attention. Sometimes we go through our lives on autopilot. We are not fully aware or present. We often dwell on the past and plan events in the future. We do not spend much time really paying attention and noticing what is happening right now; without judging or trying to fix it. Your body and mind send you signals constantly. If your attention is elsewhere, you don't notice. Then the signals can result in disease in our mental and physical health.
Community: Your community is more than the places where you live, work and worship. It includes all the people and groups you connect with; who rely on you and upon whom you relay. This mind body and spirit group is a new community for you to belong to.
About the Facilitator:
Dr. Carol A. Penn, doubly Board Certified in Family Medicine and Obesity Medicine as well as being a Master movement, meditation, and mindset coach brings more than 40 years of experience and expertise in Mind Body Medicine and the movement sciences. Gifted with the ability to inspire and educate about self care, Dr. Penn brings a unique set of skills to her work as a physician. She has worked for decades, with individuals seeking or in recovery as well as those who provide services to them.
Her work in Mindful Movement and the dynamic small group facilitation work in the Mind Body Spirit Medicine series is designed to assist each participant in their journey of deep self care and in learning how to prioritize themselves on behalf of achieving their best and highest self. In the Mind Body Medicine series you will learn how to balance your Sympathetic and Parasympathetic nervous system as well as how to uncouple the amygdala and hippocampus regions of the brain from fear based behaviors that hold us back and keep us stuck.
Dr. Penn hoping to guide each person on their own unique journey, holds national certifications in Mind Body Medicine from the Center for Mind Body Medicine; Health, Wellness and Fitness Coach from Wellcoaches; and is a certified Personal Trainer from the National Council on Strength and Fitness. Additionally, she has a 500 hour certification in yoga from Soma Yoga and is certified in Organ Cleansing QiGong.
She also brings her artistic sensibilities to the marriage of the arts and medicine with her background as a professionally trained dancer and choreographer with the world famous Alvin Ailey American Dance Theater and a Kennedy Center for the Performing Arts Teaching Fellow, Dr. Penn will get you moving and keep you moving on your path to health and wellness.
Having achieved a rare standard of excellence in the Academic community, Dr. Penn is a Fellow in the American Academy of Osteopathic Family Physicians and is Clinical Faculty with Rowan University School of Osteopathic Medicine, the Center for Mind Body Medicine, and the Medical Moguls Academy. She is a recent graduate of the Whole Health Medical Institute and serves as a leader in her community as a member of the Board of Health and in her capacity as a Trustee with Lunch Break Inc.
She is also a two time best selling author and her book: Meditation In a Time of Madness, launched in 2019 as a number 1 best seller in the category of meditation and alternative medicine.
A business woman, servant leader and entrepreneur, Dr. Penn is the CEO and Founder of Penn Global Visions LLC, a health and education multi-media firm changing the world one meditation at a time.
She is a medical correspondent for WURD Radio in Philadelphia where she is a frequent guest and Podcastor and an artist forever, continues to direct her all volunteer women's dance ensemble Core of Fire.