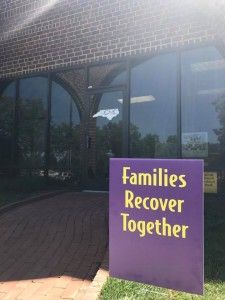 "Dropping my son off at the men's shelter was one of the most bewildering places I had ever been in life. I cried as I drove off, wondering if I was doing the right thing. It didn't feel like the right thing to do. When I realized just how sick my son was, I went out to find him and let him know how much I love him and he could get help for this illness if he wanted it," - Margaret Worthen shares about her son who is now in recovery.
Margaret is a parent who had to relearn parenting over the last 10 years after discovering that her son was struggling with substance use disorder. She spent lots of time researching, but found little information about the disease. She found little hope or understanding about what she, as a parent, should be doing to help her son. Margaret strongly valued the "just talk about it" approach and wanted to create a place for parents to share their experiences. Naturally, the Family & Ally Support Group emerged as an effort to help other families going through the perils of addiction.
The evolution of the Family & Ally Support Group began with an online group or chat room called "Soul Sisters," where mothers came together to talk about their experiences with their children experiencing substance use disorder. That group's members, which has grown from 5 to 96, have become friends who use daily texting to encourage and support each other. Of the group members, one person's child has passed away and the others are in various stages of recovery. This text group message has transitioned into a Facebook page that serves the same purpose. Margaret says she started this support group for everyone else, but she gets so much from it herself.
The Family & Ally Support Group meets every Tuesday, 7-8:30 pm. The group offers hope, education, and friendship. Margaret shared that, "We know each other's kids and those kids become our kids!" It is often forgotten that parents need support through this experience. "We all have to keep it together," she states. "I learn everything I can, share everything I learn, and do what I can. We all deserve to live happy, healthy lives!" Moving past the shame, blame and guilt, Margaret also blogs about the family addiction experience.
RCNC's Recovery Community Center is located at 5245 Capital Blvd (across the street from Michael's in the Majestic Nail business complex).